NEWS FLASH - August 2, 2000 - The final tally has been completed and the General Motors Family raised $128,000 for the Make-A-Wish Foundation. Steve's hair was shaved on August 1st and will be broadcast on August 8th on a live GM Satellite broadcast to GM Facilities throughout the United States.
Click here to see the Fox 47 news clip on Madison.
---

Making Wishes Come True
General Motors Worldwide Facilities Group (WFG) employees are challenged to help make a wish come true for children with cancer. Steven Tomaszewski, Environmental Manager at Lansing/W. Michigan Facilities, requests donations to the Make-A-Wish Foundation®. The foundation makes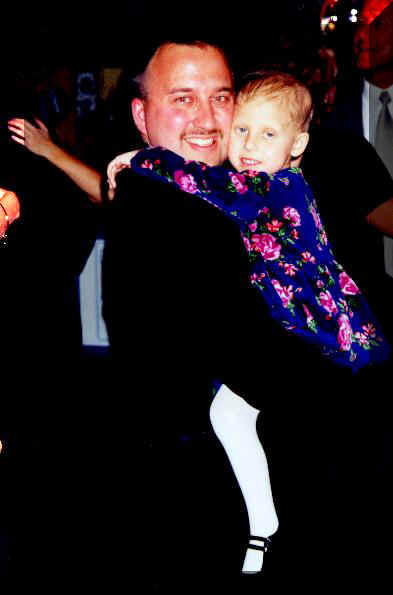 once-in-a-lifetime dreams come true for many young cancer patients.
Steven's 4-year-old daughter was granted a wish from the Make-A-Wish Foundation®. Madison Farhat-Tomaszewski was diagnosed in July with hepatoblastoma, a rare form of liver cancer. The cancer rapidly spread to her heart and both lungs.
Children with life-threatening diseases qualify to make a wish similar to Madison's. Some choose to meet famous individuals such as
Shania Twain or the Backstreet Boys, while others ask for trips to Disney World or a shopping spree to Mall of America. Regardless of the request, the purpose is to give these children and their families a "vacation" from the illness. Many of these children undergo extensive treatments that are painfully long, yet they struggle to live a full and normal life.
Madison was thrilled to learn that she her wish for a pool will come true. However, she also would like her "cancer friends" to have their wishes come true. In August, Madison and her mom helped raise over $40,000 in the first Walk-For-Wishes campaign to generate funds for the Make-A-Wish Foundation®. The campaign helped grant 8 children and their families a dream come true. This time Madison and her dad challenges the GM community to beat the $40,000 tally. And to add some fun to the challenge, Steven promised that if GM raises $40,001 or more, Ray Tessier, Director of WFG-Environmental Services, will shave Steven's head.
Contributions are still being accepted. Your tax-deductible check, made out to Make-A-Wish Foundation®, can be sent to:
Lansing Area:

General Motors
Attn: Sonia Ladwig
M/C 489-070-035
920 Townsend
Lansing, MI 48921
Phone: 517.885.0146
All Other Locations:
General Motors
Attn: Vivan Ford
485 W. Milwaukee
Argo A-2nd Floor
Detroit, MI 48202
Phone: 313.556.9344